Call Us at
800-997-3177

or fill out the form for more information!
GOcrib™ - Inventory Management Solutions
Gopher Industrial is excited to introduce you to 
GOcrib™
, a true inventory management solution. We offer industrial vending, modular locker systems, tool room management and much more – all driven by Gopher Industrial's processes and integrated with the 
AutoCrib®
 vending systems. This technology combined with Gopher Industrial's supply chain solutions allows you the ability to completely integrate your procurement process all while having the ability to source from multiple vendors.
The Gopher team can work with your organization to fully implement an inventory management solution that streamlines the procurement process, organizes your tool rooms, develops workflow, helps manage data, and fully integrates your supply chain with multiple vendors. These processes can then be integrated with GOcrib™ – a true inventory management solution
Reduce transactional cost
Improve productivity
Replenish inventory
Proper utilization
Inventory accuracy
Increase reliability
Improve efficiencies
Calibration tracking
Departmental controls
Management reporting
Reduce 20% – 50% of spend
Automate ordering and receiving
24-7 Availability of stock
Employee Accountability
Improve job costing
Vend Multiple Vendors
A BREAKTHROUGH IN INDUSTRIAL VENDING TECHNOLOGY
Automatic Adjusting Door
Dispense square/rectangular boxes, MRO items, and other oddly shaped inventory items. It's quick and easy to load for restocking.
Incredible Density
Increase capacity of your industrial vending machine by 30%, while adding incredible flexibility.
Configure On Site
Plastic shelves can be reconfigured in minutes without tools.
Large 19" Display!
Stunning high-resolution 19" (48cm) touch display, the largest of any industrial vending machine on the market.
Intuitive Biometrics
Sign in using bar-codes, prox cards, smart cards, and mag-stripe ID cards. For additional security, integrate fingerprint validation.
Reduce Maintenance Costs
By reducing the number of moving parts, the machine is nearly maintenance free.
Over 200 Reports Available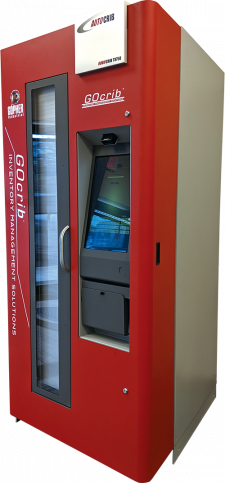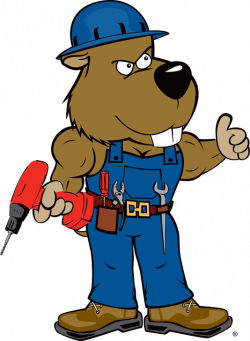 A TRULY MODULAR LOCKER SYSTEM THAT CAN BE CONFIGURED OR RECONFIGURED ON-THE-FLY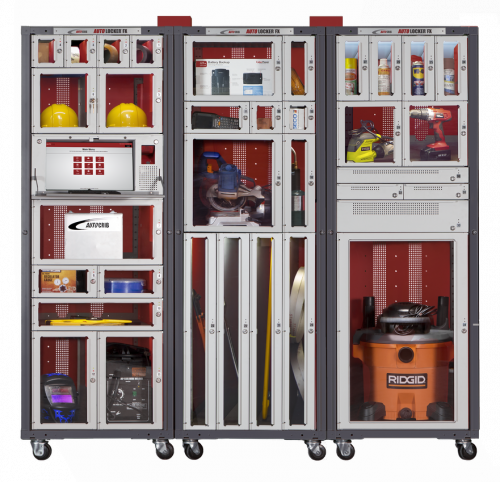 The AutoLocker® FX is the first and only locker system on the market designed to be completely modular in every way. This platform lets you build a custom configured locker system for the unique needs of your company.
You decide the size and are available in 22 different sizes for you to choose from. Locker modules can be mixed and matched to provide a customized solution.
See-through windows with bright LED lighting allow the user to quickly identify the items and issue it through an intuitive touch-screen user interface. Multistate LED status lights identify which items are out on the floor as well as the status of the items that are inside the lockers.
The AutoLocker® FX also provides for optional 11 0VAC power outlets so that battery operated tools and equipment can be charged while in the locker. Further, the system will manage the charge time and always dispense.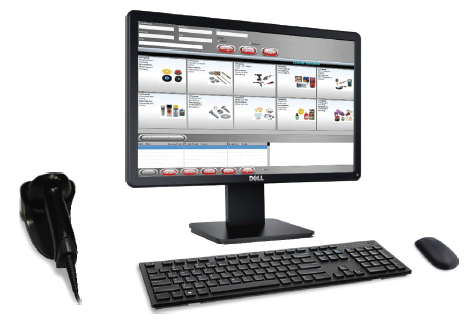 Touch Tool Room allows you to automate your existing tool room, replenish inventory, place demand for supplies in workstations, improve production, increase profitability and give management the reports they really need.
TouchTool Rooms can be placed at various locations to create a "runner system". Requests for tools or supplies are entered at the Touch Tool Room. The central tool crib prints out the order and a "runner" delivers the tool, while keeping the operator at his work center
Tablet ToolRoom brings RoboCrib's robust suite of features right to your fingertips. Powered by Microsoft's Windows 10 platform, the DT301x Tablet is lightweight, durable and contains a powerful 2D rear barcode scanner. Users can move about freely without being tethered to a computer terminal or having to do extensive data entry.
 With built-in Wi-Fi and Bluetooth this robust tablet offers real-time information capture and transmission to improve processes. Lose network connection? Don't sweat it. Tablet ToolRoom allows you to work online or offline without interruption and syncs behind the scenes when you are reconnected.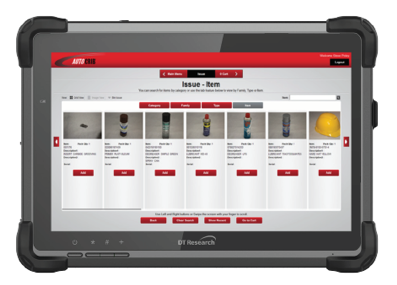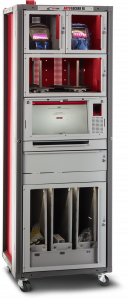 AutoLocker® FX Scale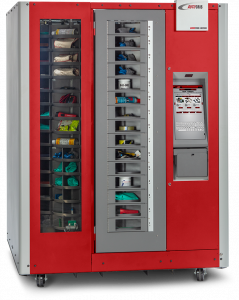 ROBOCRIB® LX2000 ​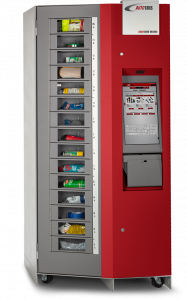 ROBOCRIB® VX1000 ​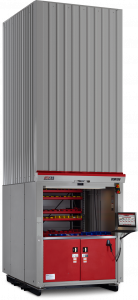 AutoCrib® VLM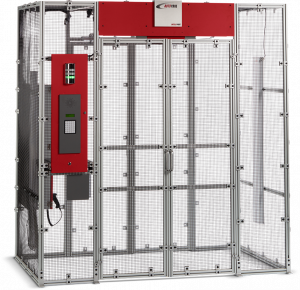 Intelliport® Lite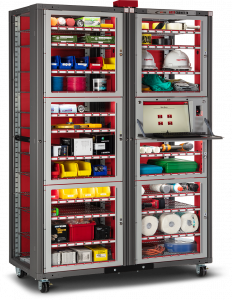 AutoCab® FX

ScaleMate®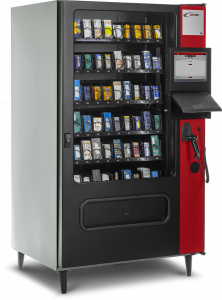 AutoCrib® RDS
When you automate inventory management with the GOcrib™ industrial vending solutions you can replicate best practices across the entire company with ALL your vendors on ONE SYSTEM. This is the most comprehensive way to implement lean inventory management efficiently and effectively. Our vending solution allows the ability to stock all types of inventory, both large and small. You can manage tools, safety supplies, welding consumables, gas cylinders, general mill supplies, cutting inserts, pipe fittings, fasteners, kits, test equipment, gauges, laptops, radios, spare parts, keys, and just about anything that is considered inventory or that needs to be managed.
With GOcrib™ you can standardize your process, have relevant inventory information for all products, bid customer jobs more effectively, develop consistent workflow, trace-back faulty lot-controlled items for recalls and forecast inventory levels based on actual demand. You always know which items an employee took, what job it was used on and how many. You know where your entire inventory is at any given moment with a complete inventory control system. All these great benefits improve your competitive position and increase profitability.
Gopher Industrial's supply chain solutions in hose products, welding supplies, safety products, mill supplies, industrial lubricants, janitorial, pipe valves and fittings, fasteners and more coupled with GOcrib™ and the flexibility to have multiple vendors truly positions your organization to manage your inventory. Why just vend or managed part of your supply chain when you can do it ALL!
Let the Gopher Get It! Contact Gopher Industrial and get GOcrib™ today!